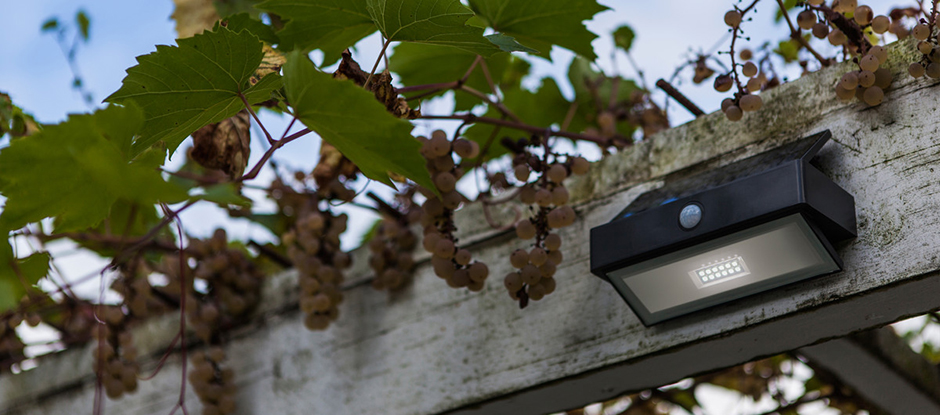 Defined by its contemporary architectural geometry and advanced lighting system that incorporates renewable energy technology, the Lutec Arrow solar wall light delivers sophistication and sustainability to outdoor wall lighting. The uniquely integrated design takes advantage of state-of-the-art LED light engine, high quality photovoltaic panel and long life lithium-ion battery to offer eco-conscious homeowners a robust off-grid lighting system. Arrow features a box-shape design with clean, modern lines that constitute its prominent architectural elements. A sleek cuboid housing with durable textured grey finishing is abundant in strength, durability and modern statement. Arrow is equipped with a polycrystalline solar panel that provides exceptional energy delivery per peak power watt. The solar panel leans toward the wall for optimal sunlight exposure and charges a 3.7V 1200mAh lithium-ion rechargeable battery pack. To maximize the operation efficiency of the LED light, Arrow also has a built-in PIR motion detector with a 12m maximum detection range and 120 degree sensing angle. A hinged LED light assembly consists of 12 high efficacy LEDs to deliver long life, reliable lighting. A clear PC lens is sealed to the light assembly to protect the LEDs from harsh environments.
Product features
Contemporary architectural geometry delivers a modern statement to patios, porches and courtyards.
Rugged cast aluminum construction with corrosion resistant powder coating.
1W polycrystalline solar panel.
3.7V 1200mAh lithium-ion rechargeable battery pack
Motion sensor (coverage: 120° angle, 12 meters)
2.3W LED light module, 180 lumen delivery.
Complete off-grid operation, no operation costs.
DIY installation, no external wiring.
IP44 ingress protection.