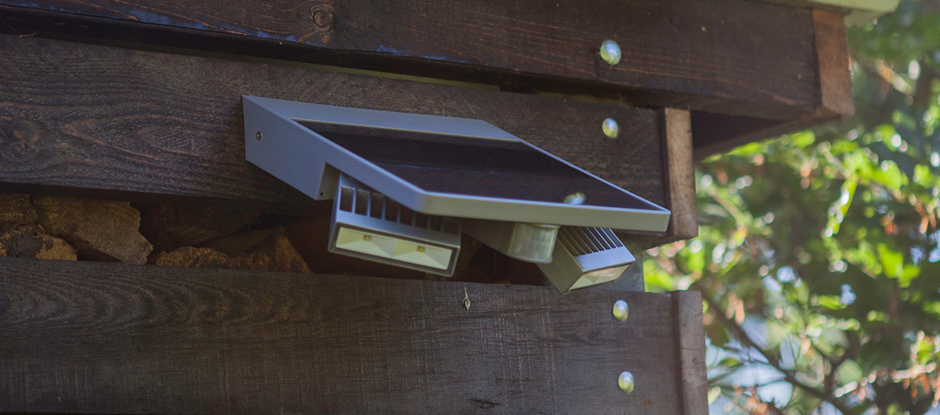 The Lutec Tilly
solar powered LED wall light
is a highly integrated yet stylishly designed motion security light with futuristic accents. This modern
wall light
runs entirely on solar energy and harvests the energy efficiency benefits of LED technology for low-maintenance, dependable and reliable off-grid security and area lighting solution. This all-in-one product incorporates a long lasting 3.5W polycrystalline solar panel to convert solar energy into electricity. High efficiency polycrystalline cells absorb a maximum amount of available sunlight rays and produces suitable voltage and current to charge a built-in battery bank. The 2,200mAh lithium-ion rechargeable battery assures 2 hours of continuous lighting under a full charge. Two LED flood lights are adjustably mounted beneath solar panel housing with a tilt-swivel angle up to 74° and 110° rotation, facilitating photometric adjustments on site. The performance engineered floodlights use Osram 3030 LEDs to deliver high performance and high reliability in a low profile form-factor that dimensionally match the design. Motion activation technology adds an extra energy-efficient feature to the off-grid light. A motion sensor with sensitivity and duration adjustability detects motion for light activation at a distance of up to 12 meters and a range of 120 degrees.
Product features
Ideal for garages, entryways, walkways, sheds, patios, balconies, decks.
Value-packed solution in a low-profile design.
Maintenance-free LED technology, low power consumption.
High conversion efficiency 3.5W polycrystalline solar panel.
2,200mAh Li-ion battery offers 2 hours of uninterrupted power.
High sensitive motion activation for up to 12 meters and 120° front and downward detection.
Adjustable lamp heads for directional aiming capability.
Durable, weather-resistant construction.
Easy DIY installation, no wiring required.
IP44 ingress protection.