Jinghong Lighting
, a Shenzhen based industrial lighting manufacturer, recently launched its
JH-HB-07 series UFO LED high bay lights
. Delivering 26,000 lumens of uniform circular light with a power consumption of 200W, this fixture is ideal for large indoor facilities such as factories, warehouses, large retail stores, athletic facilities or gymnasiums, etc. Lighting in these facilities has long been dominated by high intensity discharge (HID) lighting systems such as metal halide and high pressure sodium lamps. The UFO style JH-HB-07 series LED high bays provide many advantages over conventional lighting sources, including reduced power consumption, higher efficiency, longer life, and enhanced aesthetics.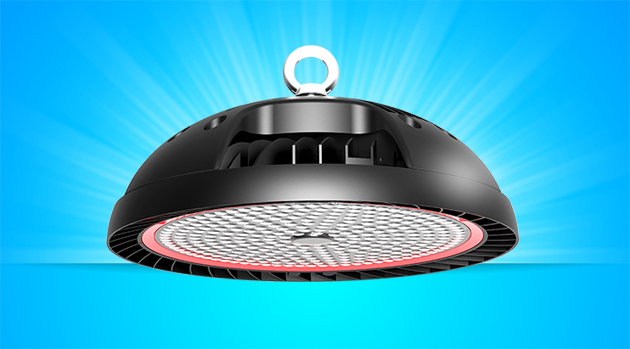 Smaller, longer lasting and more efficient, the streamlined design is more compact without compromising performance. A good thermal system design ensures high efficiency and reliability of high bay lighting systems. As a byproduct of converting electricity into light, LEDs produce a substantial amount of heat that elevates the operating temperature of the LEDs if allowed to accumulate on the LEDs, leading to efficiency degradation and premature failure. The JH-HB-07 high bay luminaire features a sleek yet thermal-friendly housing constructed from die-cast aluminum having a thermal conductivity of approximately 200 W/m-K, which allows greater heat dissipation and provides greater corrosion resistance. To improve heat dissipation and resistance corrosion, a black or white powder coat finish is applied to both the inside and outside surfaces of the housing. The housing comprises a built-in thermal venting chamber cast into the housing to facilitate more effective dissipation into the ambient.
LED's light radiation is directional, therefore, the optical distribution of the light fixture is dependent upon the positioning and configuration of the LEDs within the facets. The glare-free design of JH-HB-07 forms optimal radiation pattern and provides a uniformed illumination. The high brightness LM80 standard Osram Duris S5 3030 LEDs offer a higher illuminance when compared to other SMD 3030 LEDs and yield a high CRI which is ideally suited to general interior illumination. Powered by Meanwell HLG high performance drivers, the high bay luminaire can operate in a wide range of power input (100-305V AC 50/60Hz). The power factor of the power supply unit is >0.95, so that, once the power is delivered to the load, the amount of current returned is reduced. Subsequently, no extra cost will be charged by the utility companies.
JH-HB-07 LED high bay luminaires are available in color temperatures of 4000K and 5000K, with beam angles in 50°, 90°, 150°. They are fully dimmable and offer multi level lighting. For added control, an optional PIR sensor can control the on and off abilities. The optional ZigBee module may be configured for remote controls with a low data transmission rate, including those for lighting switches and remote dimming controls. The protective design of the light assembly enables it to have an ingress protection level of 65 (IP65 rating), protecting the light source and driver circuit mounted therein from exposure to the environment. A confident warranty up to 5 years is offered.