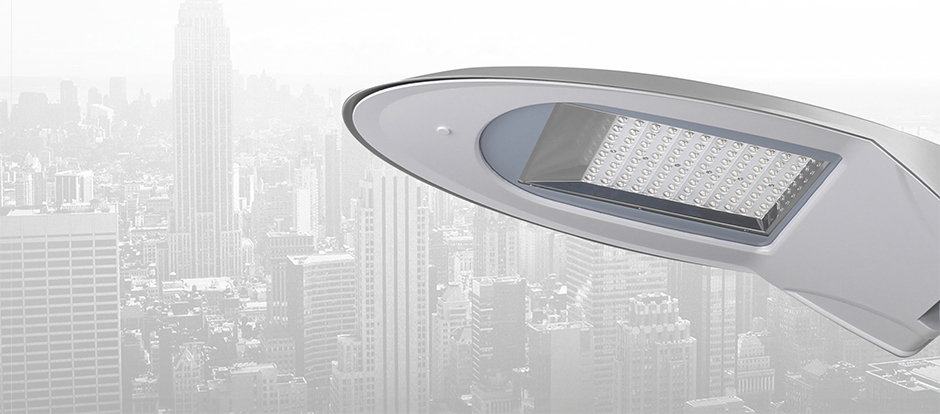 The JRA2 Series
LED street lights
from Jingri Lighting take the form of classic cobrahead luminaire design but with the performance only a cutting edge LED solution can provide. Available in multiple lumen packages delivered by 24-LED to 112-LED light engines and 5 light distributions for compliance with road illumination requirements, the JRA2 street lights provide unparalleled solutions for a multitude of lighting applications including roadways, streets, bridges, overpasses, parking areas, and pedestrian walkways. In addition to significant energy savings, years of maintenance-free operation and superior optical control, the contemporary design of this product family generates a unique visual appearance that melds seamlessly into today's and yesterday's architectural styles.
Construction
Designed and engineered for durability, thermal performance, corrosion resistance and visual appeal, the JRA2 Series incorporates all the critical elements needed to deliver a dependable construction without compromising style. Constructed of low copper die cast aluminum alloy, the rugged HPDC housing features excellent dimensional stability, high thermal conductivity, and smooth casting surfaces. High shock and vibration resistant construction protects the light source and electrical components from mechanical shock. Impact-resistant toughened glass lens sealed from the outside environment provides IP65 rated ingress protection against dust and water. Contractor-friendly design upgrades the ease of maintenance.
Thermal Management
JRA2 features an external heat sink that integrates with the hinged top opening die cast housing. A uniform array of 'V' shaped heat dissipation fins maximize the total ambient contact surface area and facilitate flow-dependent convection heat transfer. Unique fin geometry protects the luminaire against dirt and foliage accumulation while maintaining the integrity of the airflow passageways. The multilayer MCPCB that is soldered with LEDs is mounted to the top opening housing to expedite thermal dissipation. The MCPCB take advantage of a high thermal conductivity dielectric polymer layer for lower thermal resistance. The LED light engine is built with excellent electrical breakdown strength and solder joint performance that allow the LEDs to operate in high drive currents without compromising color quality and lumen maintenance.

Light Source and Optics
JRA2 is equipped with Cree/Osram white LEDs which produce a minimum of 70% of initial intensity over 70,000 hours of life. State-of-the-art system design makes best use of the unique qualities inherent in top tier LED for optimum lighting quality and the very best in energy efficiency. The JRA2 Series offers a choice of 5 roadway and area illumination optics manufactured from injection molded polycarbonate. These high efficiency optics produce an asymmetrical pattern and maximizes system lumen delivery which is optimized for high uniformity and maximum spacing's between columns. The JRA5 Series LED street lights produce light outputs between 1500 and 19080 lumens with a system level efficacy up to 120 LPW which translates to tremendous energy and maintenance cost savings over the luminaires long-rated lifetime.
Electrical
The JRA2 LED street light is powered by a constant current, high efficiency Mean Well driver (or an equivalent Inventronics driver) with output currents up to 350 mA or 500 mA. High operating efficiency is underpinned by an accurate match of the electrical characteristics between the light engine and electronic driver. These LED drivers delivers high reliability with robust specifications for short circuit, over current and over voltage protection. A built-in, field replaceable surge protection device protects the lighting system from electrical disturbances, including nearby lightning strikes. The electrical systems is wired with quick-disconnect terminals for ease of field replacement and maintenance.

Finish
All exposed aluminum surfaces are chromate pretreated to withstand extreme environment exposure. A heat fusion thermoset polyester topcoat in grey, black or white provides excellent salt and humidity resistance while meeting ASTM D523 gloss retention.

Mounting
Designed for both slipfitter and horizontal arm mount, the JRA2 Series LED street lights accept 48mm, 60mm or 78mm O.D. tenons with adjustable +/- 5° tilt (horizontal) and +10° (slipfitter, 5° increment) for fixture leveling.