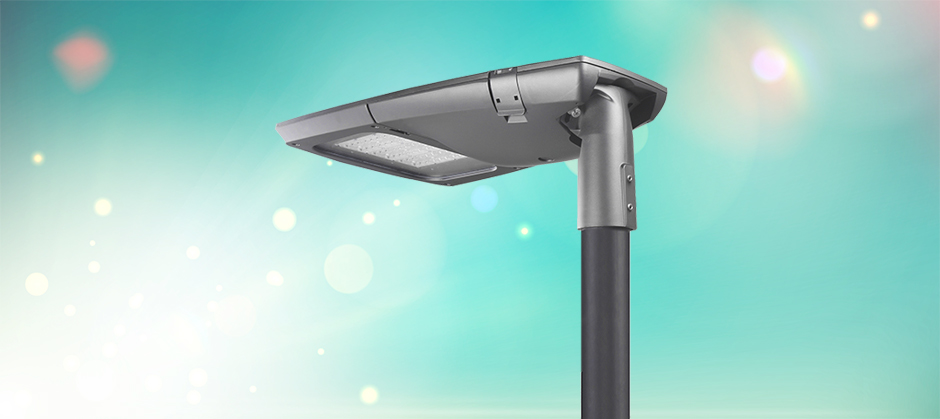 The JRA8 Series LED street lights from Jingri Lighting integrate technology, design and function in a package that delivers the energy efficiency, reliability and ease of maintenance needed for roadway, area, and parking applications. Equipped with a high efficacy light source that lasts well over 70,000 hours and incorporating effective thermal management that leads to greater product reliability, JRA8 provides dependable performance and significant cost savings with superior payback in a sustainable design without compromising style.
Construction
JRA8's rugged housing is made of custom formulated low copper aluminum alloy using a pore-free, high pressure die casting process. The die cast aluminum housing is free of metallurgical defects and characterized by excellent dimensional consistency, mechanical strength and thermal conductivity. The casting surface is electrostatically applied with a thermoset TGIC polyester powder paint over a chromate conversion coating. The corrosion resistant finish is tested to withstand prolonged salt spray and UV exposure per ASTM B117/ASTM G154 and meets ASTM D523 gloss retention requirement. The wet location listed luminaire features IP66 rated electrical and optical chambers. The electrical chamber is designed with a watertight micro-membrane breather for pressure compensation, thereby avoiding buildup of internal pressures and vacuums. The housing features tool-less entry for easy maintenance.
Thermal Management
The aluminum housing offers excellent heat sinking performance with its intrinsic high thermal conductivity and superior convective cooling design. The sleek housing surface eliminates external heat dissipation fins which are prone to accumulation of dust and debris. The smooth aluminum top with a self-cleaning aerodynamic geometry ensures consistently adequate airflow across the cooling surface area. To ensure low junction-to-housing thermal resistance (Rth), all of the components along the thermal path from the LED junction to the aluminum housing have low thermal impedance and high thermal performance. The LEDs are soldered to an MCPCB with a thermally efficient dielectric layer and tested to meet strict solder joint reliability requirement for long-lasting thermal performance and electrical breakdown strength.
Light Source and Optics
The JRA8 Series
LED street lights
are supplied in a number of models that incorporate LED engines with 18, 24, 36, 54, 72, or 96 Cree/Osram LEDs. These high efficacy LED engines produce up to 22700 lumens of light with excellent color rendering and chromaticity stability. Their inherent thermal stability in conjunction with excellent system-level thermal management allows for high lumen maintenance and color quality even at higher temperatures and drive currents. Precsion molded secondary optics enable highly optimized target illumination performance. These TIR optical lens produces Type 1 Short, Type 2 or Type 3 distribution with high uniformity and maximum spacing's between columns.
Electrical
The long-life
LED systems
are driven by 525mA/700mA Mean Well/Inventronics drivers that accept 100 VAC through 277 VAC input. These constant current LED drivers deliver high efficiency performance, excellent power factor correction and low total harmonic distortion (THD) over wide variations in. A full set of advanced protection features ensures these drivers operate with the highest circuit reliability over a wide input voltage range and temperature conditions. A built-in SPD device protects the lighting system against multiple nominal surges of up to 10 kV. An automatic circuit breaker is equipped to offer an added safety option. The electrical components are wired using quick disconnect harnesses for simplified field maintenance.
Lighting Control
The Mean Well/Inventronics
LED drivers
used in JRA8 LED street lights are available in models that support a full range of dimming options, including both stand-alone and network protocols. The JRA8 Series is fully compatible with NEMA twist-lock photocells for dusk-to-dawn operation. Optional integration with a wireless control module enable every light fixture to be a wireless node for remote monitoring and control.
Mounting
The JRA8 Series LED street lights are designed for both slipfitter and horizontal arm mounting and accommodate 48mm or 60mm O.D. steel poles. An adjustable inclination mechanism allows for a +15° to -15° tilt in 5° increments with cast-in leveling guides.