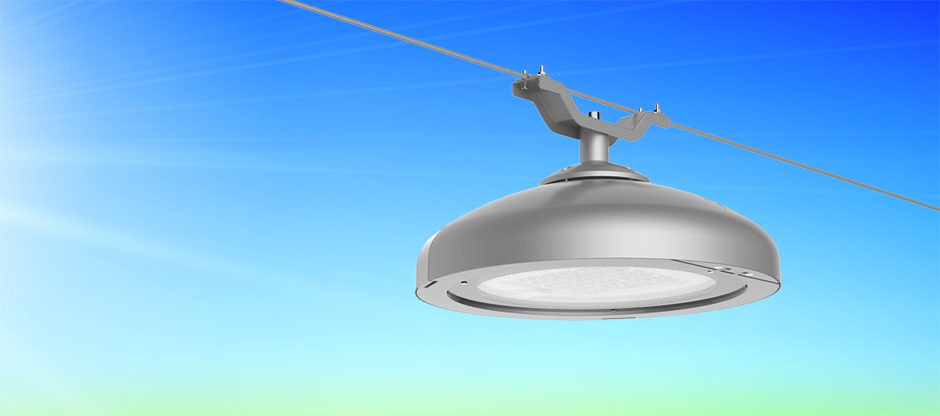 The Jingri JRA9-C is a suspended street lighting system which is mounted on electrically sourced, horizontally-strung cables. Poleless street lighting takes away the cluttering of light poles in extremely occupied streets, eliminates trenching and underground wiring while freeing up the sidewalk space. With its clean, smooth styling, the highly engineered system blends harmoniously with the surrounding architectural features. The LED suspended street light combines superior optical control, advanced thermal management and energy-efficient LED technology to deliver highly optimized illumination performance that is critical to traffic safety and to the pedestrian's sense of security while maximizing energy savings.
Jingri JRA9-C features a sleek, dirt-resistant shape defined by its smooth curves. This functional design makes JRA9 an architecturally appealing addition to contemporary cityscapes while providing minimal dirt depreciation and keeping maintenance costs to a minimum. The heavy duty housing is constructed of die cast aluminum alloy custom formulated for high mechanical strength and thermal conductivity a high tolerance to corrosive environments. Rugged aluminum construction protects electrical and optical components from mechanical and thermal shock, allowing them to operate in extreme environmental conditions with exceptional system efficiency and component longevity. The aluminum housing undergoes a multi-stage intensive pretreatment process that includes chromate conversion coating and thermoset powdercoat paint finishing. The ultra-durable TGIC paint provides excellent salt and humidity resistance as well as optimal color and gloss retention.
The combination of superior design, performance engineering and high-grade components makes JRA9-C an exceptional lighting solution that offers excellent optical performance, system efficiency and a long service life. Engineered with high quality Osram or Cree LED chips, the one-piece LED module provides maximum lumen output and high efficacy operation with the scalability to accommodate future light engine upgrades. JRA9 can be scaled from 24 LEDs to 56 LEDs per fixture in two different milliamp ratings and delivers lumen packages ranging from 4,880 lumens (53 watts @ 6500K) to 12,630 lumens (119 watts @ 6500K). Precision molded TIR (Total Internal Reflection) optics allow the optical distribution and light intensity to be tightly controlled. Optimized photometrics ensures consistent uniformity, reduced offsite visibility and on-site glare.
The constant-current-operated LED module is paired with a high efficiency Mean Well/Inventronics electronic driver that is engineered for excellent performance and reliability needed for outdoor lighting. The high performing driver produces accurate load regulation with excellent power factor (PF), total harmonic distortion (THD) and operation efficiency over wide variations in line voltage. The luminaire is rated as Class I with 10KV surge protection and automatic circuit breaker protection.
The LED catenary luminaire has a clear tempered flat glass lens sealed to the optical assembly, creating a weather tight IP66 protection against the ingress of dust and water. A secure latching system allows for tool-less access to electrical compartment. Quick-disconnect terminals make installation and maintenance easy. Specifically designed cable hung mounting bracket allows for ease of installation.
Product features
Clean, smooth design blending harmoniously into outdoor environments.
Self-cleaning housing eliminates any issues with dirt depreciation.
Upgrade friendly modular lens system offers flexibility in photometric options.
Excellent thermal management ensures maximum component reliability.
High efficacy Cree/Osram LEDs with minimum 70,000 hours of maintenance-free operation
Highly efficient, constant current LED power supplies with built-in short-circuit, overload and overheating protection.
Rugged construction with robust protection against external vibration and impact (IK09).
High quality TGIC polyester powder coating providing excellent salt and humidity resistance.
Mounting angle flexibility with adjustable slip-fitter mount.
Tool-less access simplifies maintenance.
IP66 rated for stellar protection against dust and water ingress.
5-year warranty.