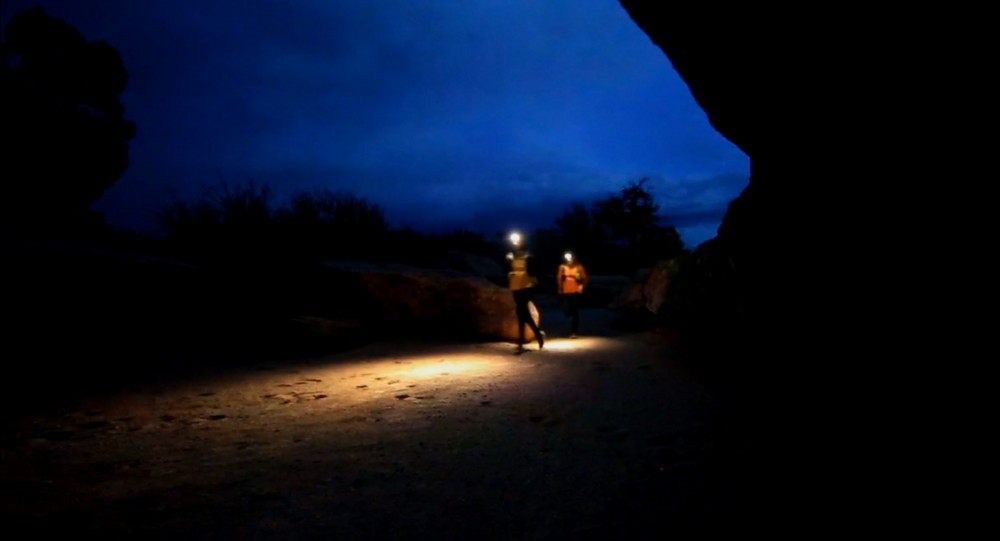 Thoughtfully designed for running, hiking, climbing, biking, camping, spelunking and other outdoor activities, Petzl Reactik+ provides hands-free, peace-of-mind navigation at night with its task-adapted illumination. The lightweight, rechargeable and programmable LED headlamp sets new standards in optical performance, functionality, comfort and runtime. Incorporating intelligence into a rugged, all-weather package, Reactik+ provides a longer burn time, more visual comfort, and minimal handling to keep you going throughout the duration of your activity. Built to shine strong through foul conditions and big adventures, Reactik+ has a rugged construction that features excellent resistance to water (IPX4), crushing and impact. Whether you're heading for the hills, exploring an extreme adventure, or taking a grueling search or rescue mission, Reactik+ is your dependable companion that carves your way out throughout the darkness.
The neat and beautifully designed headmount package measures 7.9 x 2 x 7.9 inches and weighs 115 grams (including battery and headband). Every good headlamp starts with a comfortable headband that provides secure attachment and optimum coaxial orientation of the illumination and observation path. Petzl's patented washable and adjustable headband has two-part construction designed to deliver optimally balanced weight distribution. The fully flexible fabric headband with an ergonomic design remains positioned on the head even during dynamic activities with long durations. With breathable, moisture-wicking headband that is chafe-free and skin friendly (free of latex and adhesive), Reactik+ provides unmatched wearing comfort with adjustability to fit any size head or helmet.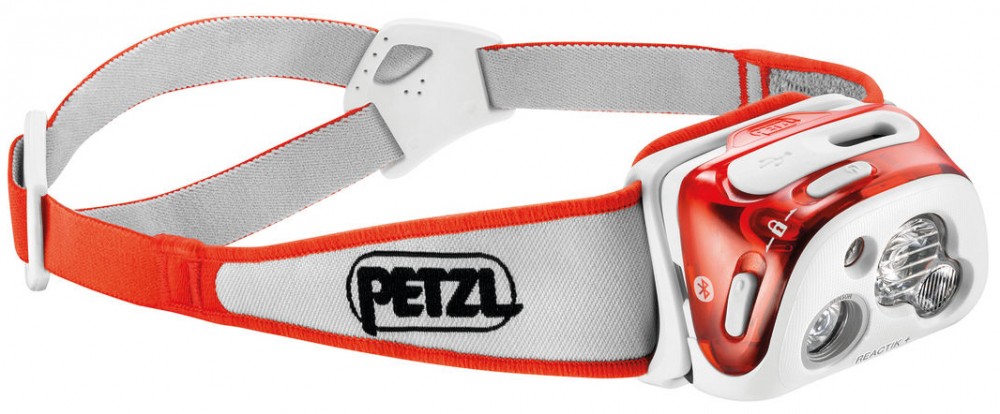 Reactik+ has a full-featured light assembly which consists of three LED modules - the spotlighting, floodlighting and red safety light modules. Whether your task calls for a powerful spot beam for long throw illumination, close range area light with a uniform wide beam, or a mixed output that balances light coverage and beam distance, Reactik+ has the ability to handle all of your lighting needs with optimized visibility. This powerful LED headlamp cranks out an impressive 300 lumens of bright white light form its high performance LEDs that boasts of exceptional luminous efficacy and extremely long operational life. An efficient optic design combined with a high lumen output allows Reactik+ to deliver clear visibility wherever you need it. The LED headlamp provides good viewing up to 110 meters on high setting, ensuring your night sight will never be compromised.
Featuring Petzl's proprietary reactive lighting technology that automatically adapts light intensity to user needs, the intelligent headlamp provides activity-based lighting automation that optimizes both visual comfort and battery life. An integrated light sensor in the lamp measures and analyzes the ambient light. A control circuit adjusts the brightness and beam pattern correspondingly. In proximity lighting applications such as reading a map, tying a knot or putting up a tent, Reactik+ produces a low intensity, very wide beam that adapts automatically to the distance of the object. For walking or running, a mixed beam is produced to provide close area illumination to see your feet as well as focused lighting to distinguish the terrain ahead. When raising the head to see far-reaching objects (looking for a trail marker during a race or for the anchor on a climb, for example), a high intensity beam with long reach throw will be created.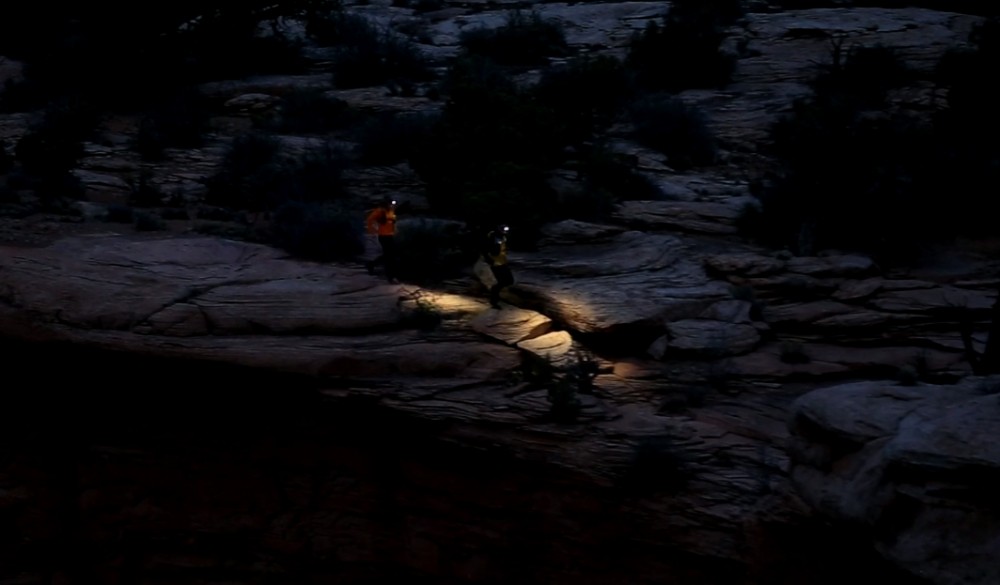 Reactive lighting is particularly advantageous in committing intensive sports which will be significantly influenced by frequent manual switching between modes and requires guaranteed illumination from beginning to end. With energy efficiency optimized to a maximum and human interventions reduced to a minimum, burn time is thus extended while the user activity engagement is remarkably improved. The headlamp will optimize battery use based on a burn time set by the user and switch between three modes - max power, standard, and max autonomy, to ensure omnidistance lighting. The light sensor also allows for daylight harvesting. Reactik+ will be automatically switched off upon detection of sufficient ambient light. There are times when reactive lighting is not a good fit. Reactik+ has a constant lighting option which offers a fixed output on all brightness settings.
Reactik+ has a built-in Bluetooth module that makes it possible to control your headlamp wirelessly with your smartphone or tablet. Just install the free MyPetzl Light app from App Store for iOS devices or Google Play for Android devices, you'll be able to customize light settings and optimize battery performance. The app gets you fully informed of your headlamp's status: battery charge level, remaining burn time, and the current profile active on the headlamp. It allows you to create or activate an activity profile. Four pre-programmed profiles are available with the MyPetzl Light app: trail running, mountaineering, trekking, and backpacking. Using the headlamp's LIVE mode, you can control and adjust in real time the light intensity and burn time. The app also allows you to compose or dictate, in case of emergency, a brief message on your smartphone, which will be converted to a light signal (morse code) by a Petzl connected headlamp. Reactik+ uses Bluetooth® Smart wireless communications technology to ensure minimal energy drain, which is virtually negligible.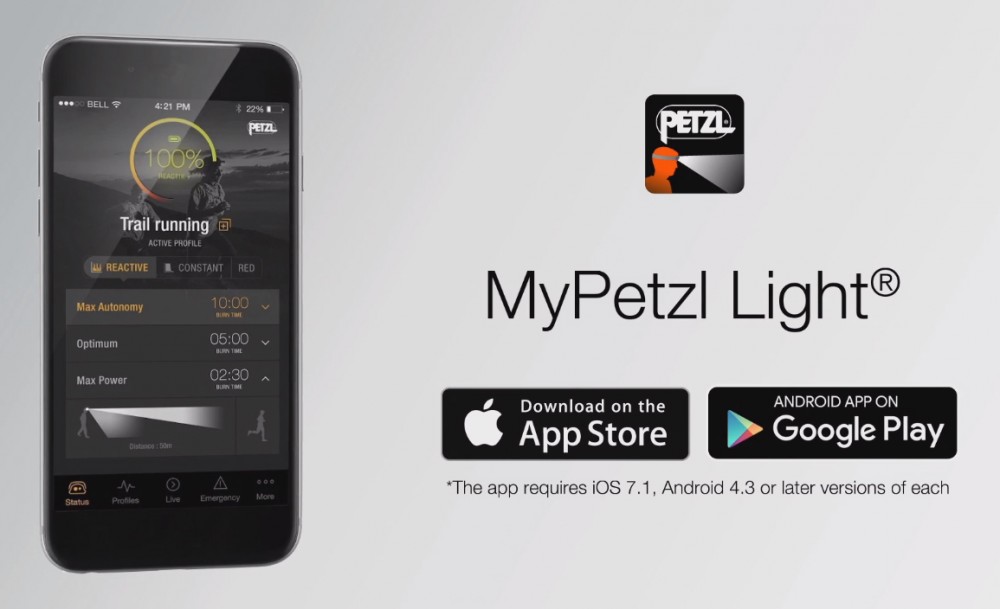 The Reactik+ headlamp uses an 1800 mAh lithium-ion rechargeable battery which slots securely into a flip-open compartment at the back of the headlamp. The lightweight yet high density rechargeable battery strikes a perfect balance between capacity and compactness. An on-board micro-USB charging port provides universal charging compatibility with all USB chargers that connect to cell phones, tablets, music players, computers, portable energy sources, and car cigarette lighters, etc. Recharge time is 4.5 hours with the USB charger. The charger's output voltage must not exceed 5V. The light comes with a power level indicator to let you know when your battery needs to be recharged so you won't be plunged into darkness without your knowledge.
The battery provides a burning time of 2 hours and 30 minutes at max power mode under reactive lighting and 2 hours at max power mode under constant lighting. The headlamp runs for up to 10 hours (reactive) or 6 hours (constant) on max autonomy. The battery provides 30 hours (strobe) or 30 hours (max autonomy) of run time for the red safety light. Built-in power regulation circuitry ensures that the headlamp provides uninterrupted hours of consistent, dependable illumination over the full battery discharge. The Petzl Li-Ion rechargeable battery loses 10 % of their capacity each year. After 300 charge/discharge cycles, the battery still maintains about 70 % of their initial capacity. While not in use Reactik+ can be locked to prevent the batteries from being drained due to accidental operation.