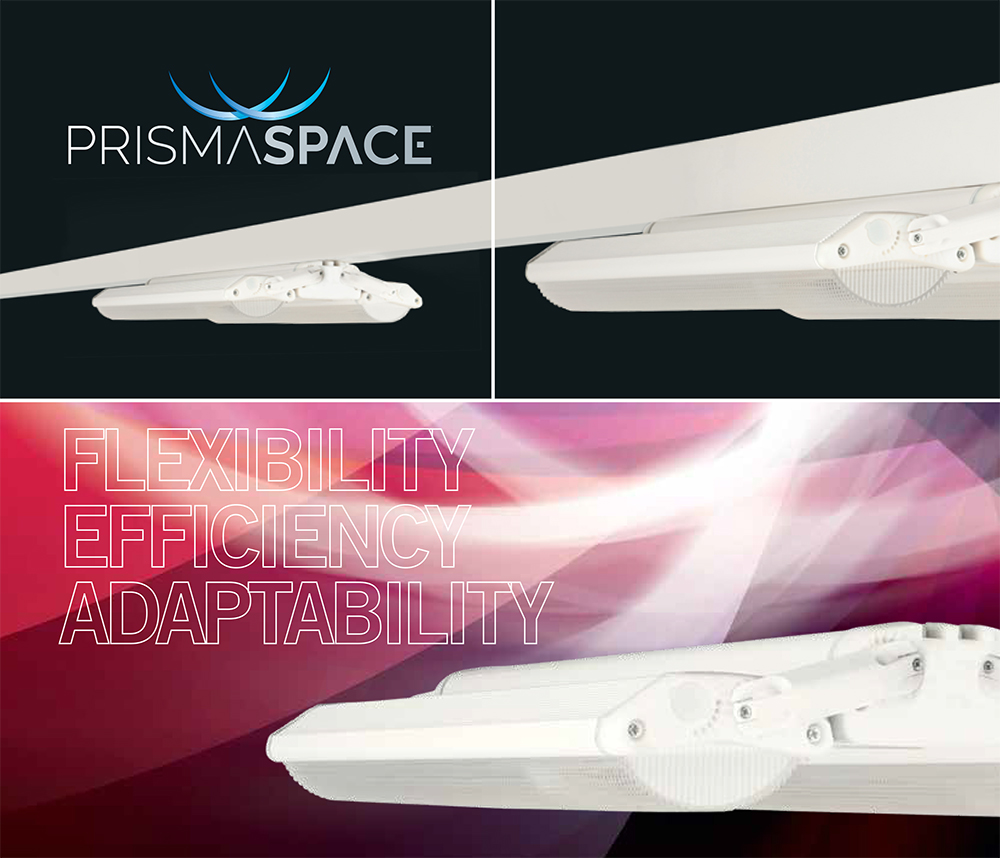 The Prismaspace from Holophane Europe is a versatile light fixture featuring a scalable platform design with the ability to select lumen packages, light distributions, modular configurations and mounting options for high bay or low bay illumination. Innovative product design and robust application flexibility in addition to superior performance and reliability make Prismaspace a highly adaptive solution for deployment from basic standalone applications to complex, connected installations in a variety of industrial, commercial, and retail lighting projects. This luminaire is the workhorse for warehouses, manufacturing facilities, distribution centers, supermarkets, showrooms, garages, hangars and applications where reliability and efficiency are important while high quality lighting is equally desired.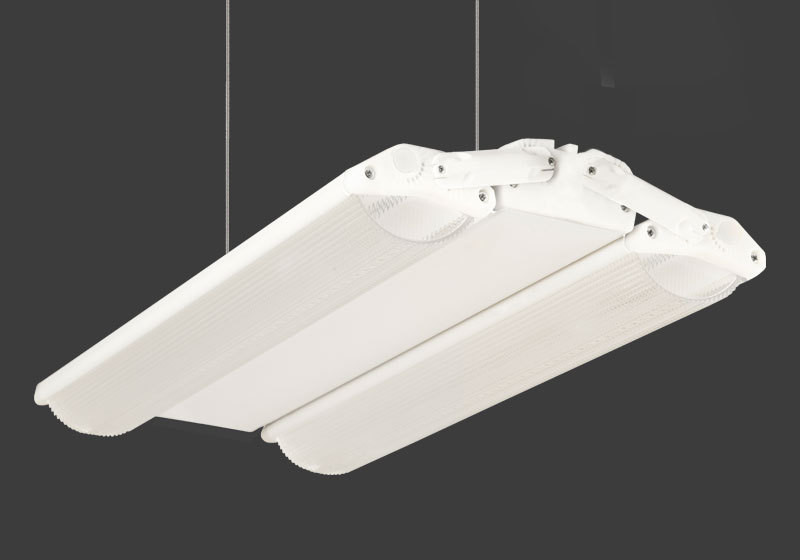 Prismaspace is created to address the challenging maintenance, safety, reliability and performance requirements of commercial and industrial facilities through an unbeatable combination of design and engineering. With a unique modular concept of configurable fixture assembly, Prismaspace boasts the highest utilization of light where it is most effective. Available in 1-module and 2-module versions, the linear high bay light is comprised of one or two light modules and an enclosed aluminum chassis which houses the power supply and other electrical components. The light modules are rotably fixed to the aluminum chassis using hinges. The light module housing and the chassis are produced from extruded aluminum (6063 T6) and enclosed by glass fiber reinforced, injection molded PA66 plastic end caps. The light fixture measures 677mm in length. The sing-module luminaire is 103m wide and 133mm high (when the module is vertically aligned with the chassis). The twin-module fixture has a 305mm width when it is widely open. Prismaspace is designed for both suspension mounting and 7-core or 11-core trunking rail installation. The light modules and aluminum chassis are IP65-rated for high ingress protection against dust and water jets.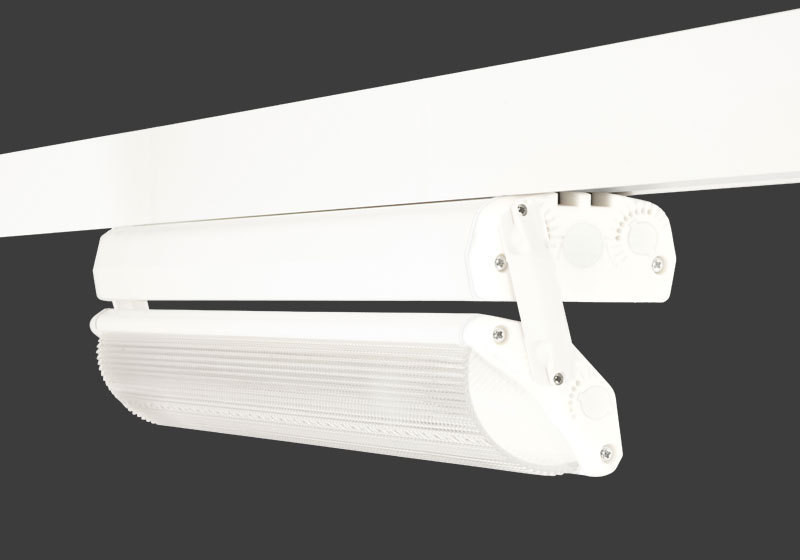 The Prismaspace high bay light is offered in 19W, 33W, 45W, 57W, 81W, 100W, 120W, and 135W with an output range of 3040 to 19237 lumens. Delivering up to 179 lumens per watt at a 70 or 80 CRI with popular color temperatures (4000K and 5700K), Prismaspace offers remarkably higher energy savings against HID and fluorescent lamps. The high return on investment deems this fixture an ideal choice for budget-conscious commercial facility operators. The light modules are mounted with high quality mid-power SMD LED arrays which deliver a breakthrough combination of lumen output and efficacy in thermally optimized packages. The high efficacy LEDs are reflow soldered to aluminum or metal core printed circuit boards (MCPCBs) with high reliability, high operating temperature capable interconnects. The LED modules are in direct contact with the extruded aluminum heat sink which is adequately dimensioned to draw heat away from the LEDs. In conjunction with radiation and natural convection cooling, Prismaspace offers superior thermal management that allows the LEDs to operate at lower temperatures for extended life with an L70B50 exceeding 100,000 hours in 25 °C environments.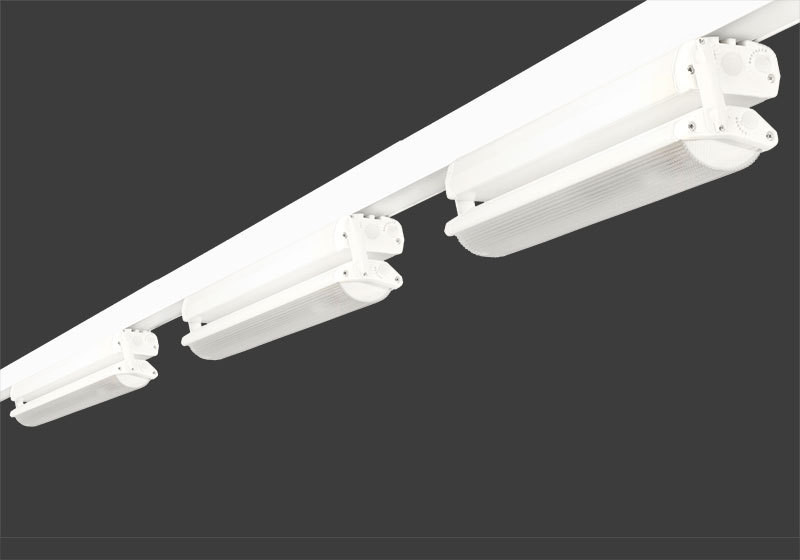 Standing out from LED solutions that purely seek high efficacies, Prismaspace create a balance of energy efficiency and high visual comfort. Prismaspace features an optical design that deliver smooth, uniform distribution of light with any glare tightly mitigated to prevent eyestrain, improve visibility, and increase productivity. Patented PrismaLED technology enables accurate control of the output of the LEDs for soft, uniform illumination and an improved volumetric lighting ratio in the space. An impact resistant, high transmission and high diffusion acrylic lens features Holophane's proprietary PrismGlow refractor technology. The inner lens surface is injection molded with light mixing prisms. The external lens surface are designed with light controlling prisms. Advanced lensing technology maximizes luminance as well as visual comfort with minimized glare.
A choice of three beam patterns including narrow, medium and wide distributions ensures balanced and high-quality illumination at all mounting heights. The narrow angle version provides focuse, high intensity beams which are especially suitable for illuminating the aisle between racks or escape routes. The wide beam light provides maximum light coverage for open areas. Whereas the medium angle light offers a balance between light intensity and coverage. The unique rotation mechanism of Prismaspace fixtures creates extreme flexibility in customizing photometric layout for specific needs. The light module of the single-module fixture can be rotated up to 180° in 15° increments. The light modules of the twin-module version can be rotated up to 45° in 15° increments. This design ensures a perfect combination of vertical and horizontal illuminance, thereby eliminating the cave effect typically created by luminaires that only provide horizontal illuminance with downward optics.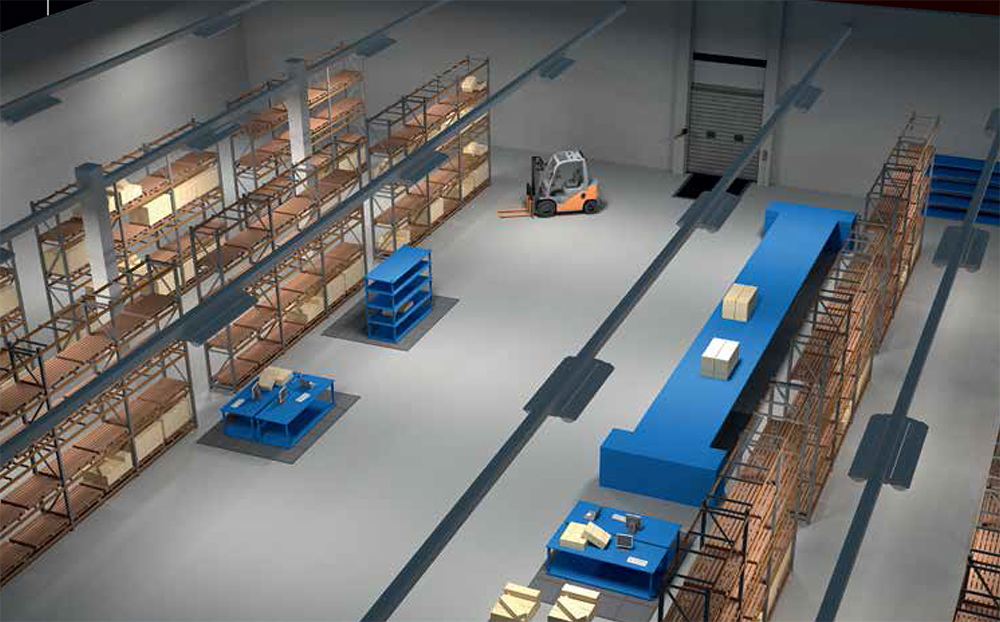 The remote LED driver which is mounted in the aluminum chassis provides excellent load regulation with high power conversion efficiency and high quality output. Structural separation of power supply and light source eliminates the risk of detrimental thermal stress imposed by light source, which is an important design consideration in integrated LED fixtures. With trunking rail installation, the aluminum chassis can accommodate integral control gear and sensor controls. Energy savings are maximized with the integrated motion and photocell sensors that provide occupancy detection and daylight harvesting capability. An integrated DALI interface enables high-quality dimming down to 1 % in the entire operating window and makes the driver configurable through the standard control protocols. HOLOS node modules are ready be incorporated to establish wireless a mesh communication for advanced lighting management. Optional emergency battery pack with 1-hour or 3-hour backup time can be seamlessly integrated into the trunking to meet critical life safety lighting requirements.
Prismaspace is supplied with a complete suite of accessories for trunking trail installation. Trunking rails are available in 1m, 3m and 4.5m lengths with 7 or 11-core through-wiring. X, L and T node connectors enable rapid connection of trunking rails and flexible deployment. 1.2m flying leads and electrical connectors allow flexibility during installation.