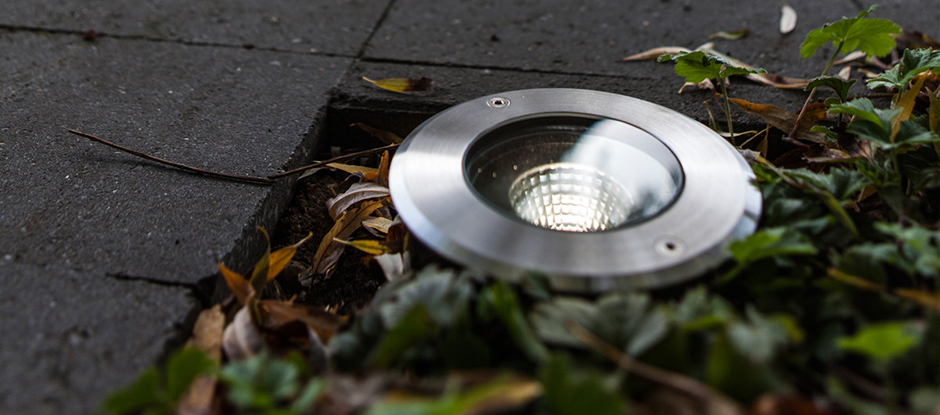 The Lutec Denver is a ground-recessed uplighter built to deliver a lifetime of optimal performance utilizing the latest in LED technology with high standards on design and engineering. The direct burial luminaires provides outstanding uplighting for architectural and landscape features with 1,030 lumens of consistent light output over its rated life of 50,000 hours. Denver features a robust construction characterized by shallow recessing depth, high mechanical strength, exceptional corrosion resistance and excellent watertight integrity. The luminaire has a heavy duty cast aluminum housing which is treated with a multi-stage cleaning, pretreatment and chemical conversion coating process before polyester powder coating. High thermal conductivity of the aluminum alloy combined with an effective heat dissipation design provides optimal thermal management to ensure the color consistency and lumen maintenance of the LEDs. High performance Seoul 3030 SMD LEDs are assembled on a metal core PCB with an uncompromising solder joint reliability. The optical assembly use a facet reflector to optimize the distribution of luminous flux. A clear tempered glass lens is sealed to the optical assembly by a high temperature injection molded silicone gasket for IP67 level ingress protection. A 316 grade stainless steel surface bezel frames the lens, providing a clean look and sleek aesthetic.
Product features
Clean lines for a timeless, modern look.
Heavy duty die cast aluminum housing with TGIC powder coat finish for long-term durability.
Clear glass lens with stainless steel trim.
High efficacy Seoul 3030 LEDs with exceptional quality, reliability and lumen maintenance.
Superior thermal management.
Round-symmetrical anodized aluminum facet reflector.
Correlated color temperature (CCT): 4,000K.
42° flood beam with optimized light distribution.
IP67 ingress protection against detrimental dust intrusion and penetration of water under submersion.
Low profile housing design facilitates ease of installation.
5-year warranty.