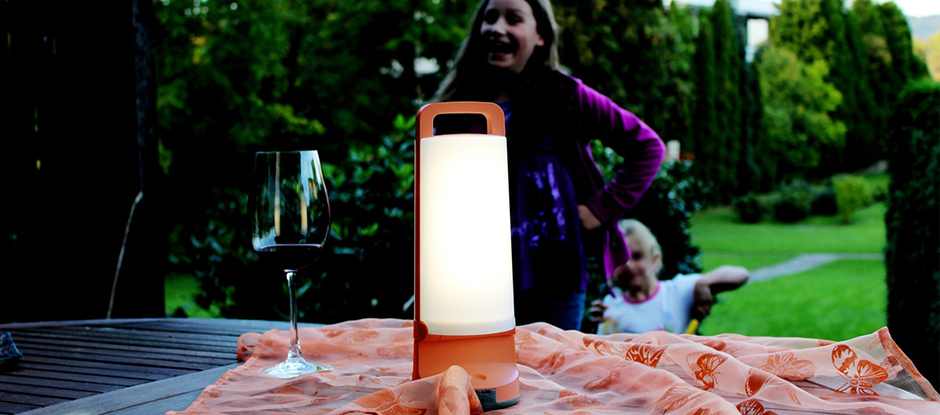 The Lutec Dragonfly solar and USB rechargeable lantern is an innovative solution to a myriad of lighting challenges. Combing the utility of a portable light with the convenience of an off-grid charging system, this award winning light makes illumination breeze for all your outdoor recreational activities, household chores and power outages. This sleekly designed light offers an updated contemporary appeal in a traditional lantern silhouette with the superior performance of a cutting-edge LED lighting solution that delivers consistent light quality and unprecedented energy efficiency. Designed to create visual appeal, engineered for reliability and built for performance, the Lutec Dragonfly was honored with the IF DESIGN AWARD 2016 for Aesthetics, Practicability, Execution.
This functional yet aesthetically appealing light creatively integrates the photovoltaic system with LED lighting system without sacrificing the performance of each system. Two semi-cylindrical solar panel/lamp assemblies pivot open to capture solar energy and close round to provide 360° illumination or compact storage. Two high efficiency 0.8W polycrystalline solar panels offers high power output per square foot of solar array and provides high power performance even at lower irradiations. A built-in charge control circuitry monitors and regulates the power going into and coming out of the battery to ensure the reliable efficiency and a long product lifetime. In addition to capitalizing on solar energy, this portable light can be charged with an external DC power source such as a computer or power bank via USB connection.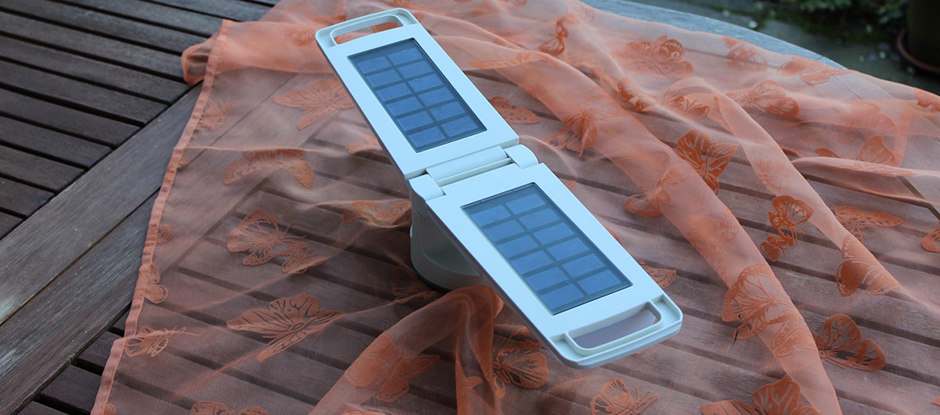 The Dragonfly LED lantern is equipped with two LED modules that use high efficacy Everlight LEDs to bring high performance and quality of light with a brightness of up to 120 lumens. With a touch dimmer switch that provides 3-level light intensity adjustment, the 3.7V/2200mAh rechargeable lithium-ion battery provides a continuous runtime of 40 hours on the lowest lumen setting (10 lm), 10 hours on 40% lumen delivery, and 4 hours of operation at the full brightness. The LED modules are protected by impact resistant, UV stabilized polycarbonate diffusers which also soften high intensity LED pixels to create uniform ambient illumination with a high level of visual comfort.
Designed for ultra-durability, Dragonfly utilizes lightweight and impact-resistant ABS plastic for a rugged construction. A rubber molded lantern base ensures stability on slippery or uneven surfaces. The IP54 level ingress protection design provides a weather-resistant exterior that shelters the lantern from splashing water from all directions, making it a great choice for all outdoor adventures.
Product features
Integrated design, graceful contemporary look.
Dual charging system - solar power and USB input.
High efficacy LEDs deliver high quality light with superior lumen maintenance.
Soft, uniform illumination.
Lightweight, durable ABS housing, rubberized base and PC lens.
3.7V/2200mAh rechargeable lithium-ion battery.
1.6W polycrystalline solar panel.
Adjustable brightness, 3-level dimming feature.
Impact-resistant construction.
Tabletop standing or hanging.
IP54 ingress protection.