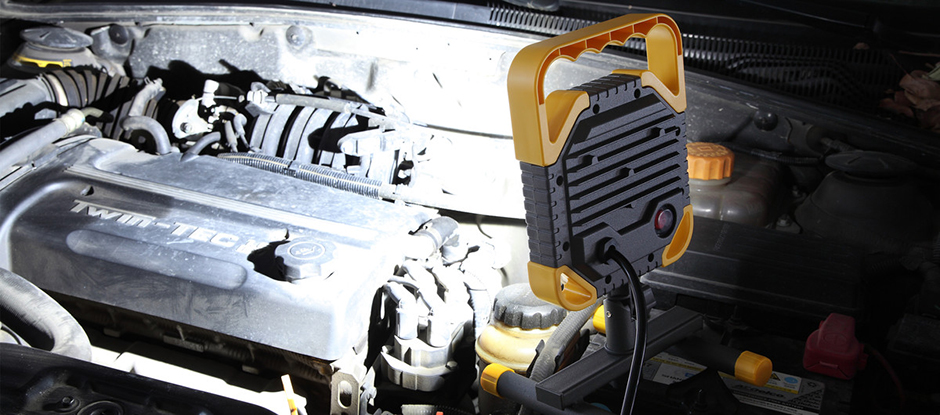 The Lutec MODO Series LED work lights are high performance LED floodlights optimized for portable applications in working environment including construction, mechanics, IT server environments, automotive applications or residential use around a home. Using the latest COB LED technology from Lextar, these powerful floodlights deliver up to 4500 lumens of high intensity light with 5000K daylight color temperature. A rugged die cast aluminum housing offers maximized heat dissipating surface area and convection heat transfer coefficient to minimize the effective thermal resistance for every component. Excellent thermal management effectively mitigates the thermal impact from the high power, heat intensive COB LED, thereby ensuring the enhanced levels of luminous efficacy and lumen maintenance. The COB LED module is shielded by a scratch, impact and chemical resistant glass lens for tight protection against rain, dust and dirt. The low profile light head is fitted with an ergonomically designed molded ABS handle for easy portability. The work light is supported by a powder coated, heavy duty steel base. The pivoting head can be tilted forwards and backwards up to 90 degrees for optimal light coverage. This cable powered light operates with an AC 220-240V input.
Product features
Heavy duty die cast aluminum housing.
Excellent thermal management ensures long life and high thermal endurance
Durable and lightweight construction.
Lextar COB LEDs with uniform emitting surface and superior lumen maintenance.
High efficiency LED driver.
Up to 4500 lumens of 5000K bright white light.
Polyester powder coating.
Tilt and lock optical aiming.
IP54 ingress protection for indoor/outdoor applications.
5 year warranty.