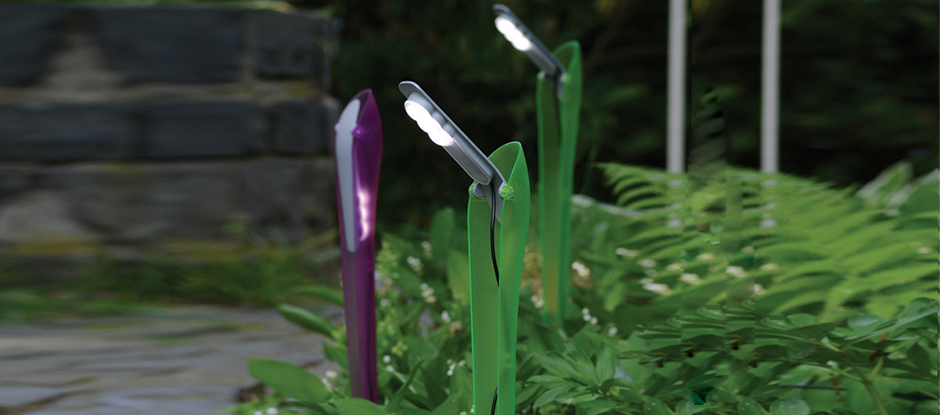 Accent your most cherished outdoor softscape with this beautiful LED garden light. Designed to enhance the appeal of ground level foliage for a wonderful nighttime glow, the Lutec Flam offers a burst of visual interest with its highly adaptive design. The Flam garden light consists of a sleek light head and a slender plastic housing which also serves as a ground stake. The plastic housing is colored in green or purple and designed with a plant silhouette, blending itself seamlessly into any landscape. The light head perches pivotedly on the housing with 0–150 degree elevation for easy adjustment to a desired lighting angle. It includes a corrosion resistant stainless steel housing and a clear PC lens. Three LG 5630 LEDs delivers energy efficient illumination with superior quality of light and reliability.
UTEC brings together industry-leading competences in integration of landscape lighting systems with renewable energy to deliver a complete power solution, allowing you to create an appealing ambience anywhere with their energy efficient landscape lights. Flam can be directly wired to the utility grid with a remote transformer or can be operated completely independent of the grid when coupled with Sparta, a standalone photovoltaic system that includes a high conversion efficiency 4W polycrystalline solar panel and a 2200 mAh 7.4V lithium-ion battery. The on-grid solution allows for a single serial/parallel connection of 12 lights using multi-branch connectors. In the off-grid system Sparta is designed to connect maximum 6 Flam lights in a string and provides 2 hours of run-time on a full charge.
Flam can be connected to a grid-tied solar power system to ensure there will be no blackout when the lithium-ion battery is completely discharged from leaving the lights on. Green Ball, a critical component specifically developed for the grid-tied system, is an intelligent bi-directional interface with energy sensing, power switching and Wi-Fi communication capabilities. It allows the solar powered lights to be used in synchronized connection with a grid supply and ensures continuous power flow from the AC mains when the battery runs out of energy.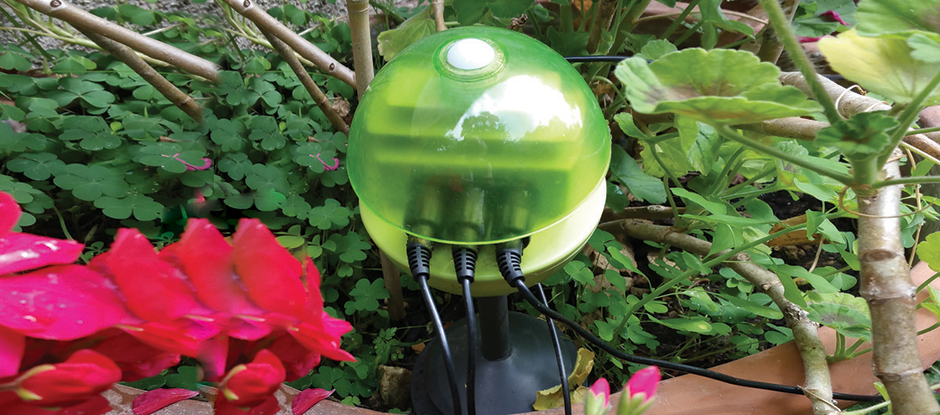 Green Ball offers a unique balance of function and form, making it both an aesthetic element in the landscape and a feature-packed power management device in grid-tied lighting systems. Its beautiful design blends seamlessly into the exterior landscape. A built-in photocell allows for dust-to-dawn light control. Green Ball can operate with a battery operated wireless PIR motion sensor to maximize energy efficiency. The sensor detects human movement from up to 12 meters with 180° coverage and turns on automatically for a preset on-time when motion is detected.
Product features
Attractive design with minimal footprint to deliver energy efficiency, lifetime value and quality of light.
Corrosion resistant stainless steel housing.
LG 5630 LEDs with exceptional efficacy and lumen maintenance.
1 watt power input. 100 lumens light output.
Impact-resistant, UV stabilized clear polycarbonate lens.
Ground spike mount.
On-grid, off-grid and grid-tied power solutions.
4W polycrystalline solar panel.
2200 mAh 7.4V lithium-ion battery.
Power management device with energy sensing, power switching and Wi-Fi communication capabilities.
Dust-to-dawn light control.
PIR motion sensor with a wide detection range.
IP44 ingress protection.