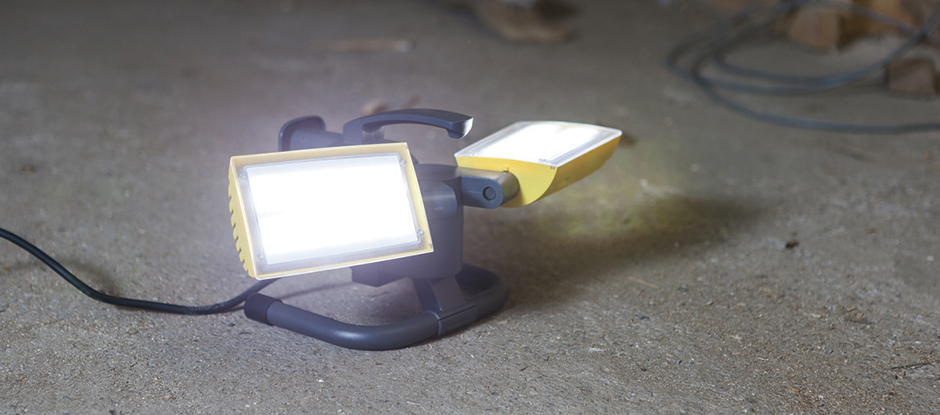 The Lutec Peri offers truly adaptive floodlighting to ensure ample workstation illumination at building sites or in workshops in an extremely robust design. This portable work light has two light heads with swivel and rotation adjustability to provide light in a variety of angles. The incredibly flexible aiming capability in combination with the twin-head design allows multi-directional illumination and maximal light coverage. The ergonomically engineered light is designed with a convenient carrying handle, a structure foldable for a compact package, a cable mount to avoid snags and tangles, and a balanced architecture providing ultimate stability. This 21 watt work light uses high efficacy Lextar 3030 SMD LEDs to produces 2000 lumens of bright white light. Integrated LED drivers provide high performance regulation. The LED light assemblies are incorporated into ABS outer housings with a thermally optimized design for internal air ventilation while making the work light extremely lightweight. The SMD LEDs are protected by scratch resistant polycarbonate lenses. The grid powered light runs with voltages of 220-240VAC and comes with a 1.5M extension cable.
Product features
Ergonomic design.
Exceptional flexibility in directional aiming.
Long-lasting, high efficacy super bright LEDs.
High efficiency LED drivers matching the long lifetime of the LEDs.
2000 lumens of high quality white light from 21 watt power consumption.
One-piece MCPET reflector with grid reflective cavities for optical light distribution.
Lightweight, durable construction.
Impact resistant PC lenses.
Sealed on/off power switch.
IP54 ingress protection for indoor/outdoor applications.