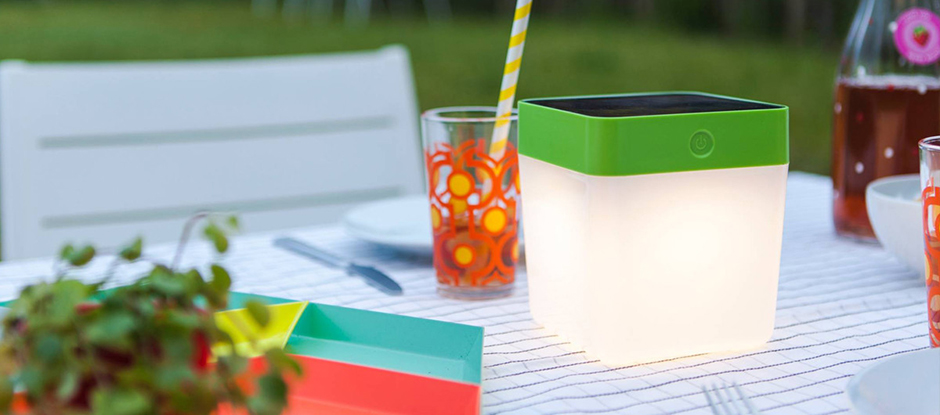 With a fresh, minimalist look, the Lutec Cube LED lantern gives an exquisite and attractive touch anywhere it's placed. Whether used for outdoor illumination on a family camping trip or to create party atmosphere at a campground or concert, this beautiful and functional LED lantern takes a position of wonder for its dependable performance and stylish modern accent. The sleek geometry combined with seamlessly integrated solar lighting makes this light a great product with functionality and style.
The Cube solar LED lantern houses all components within a compact package which is fitted with an ivory white polycarbonate diffuser box that enhances the design, completing the attractive look and distinctive feel of this light. The built-in LED module draws a mere 1 watt of energy, yet delivers a luminous flux of 100 lm. The light emanated from the LEDs is softened by the PC diffuser. A gracefully luminous dispersion of light radiates out, framing the cubic geometric silhouette in a sophisticated glow. An integrated 3.7V/1200mAh rechargeable lithium-ion battery provides 4 hours of continuous lighting in full brightness mode. A 3-level touch dimmer switch allows the light intensity to be dimmed to 40 and 10 lumens for optimized autonomy. The lantern can run for a whopping 40 hours on the lowest brightness (10 lumens) setting and 10 hours on mid-level light output (40 lumens).
The LED lantern is equipped with a 1 watt polycrystalline solar panel to provide outstanding energy delivery. The solar panel is extremely weather-resistant and offers high mechanical resilience. Along with the lightweight, durable ABS housing as well as solid state lighting module, Cube boasts a rugged construction which is highly desirable in portable lighting applications. The gorgeous green, orange, white or silver housing finish elevates this solar LED lantern elevates to a truly one-of-a-kind design.
Product features
Attractive design, minimalist look.
High efficacy, long life SMD LEDs.
Soft, uniform illumination.
Lightweight, durable ABS housing and PC lensing.
3.7V/1200mAh rechargeable lithium-ion battery.
1W polycrystalline solar panel.
Adjustable brightness, 3-level dimming.
Impact-resistant construction.
IP44 ingress protection.