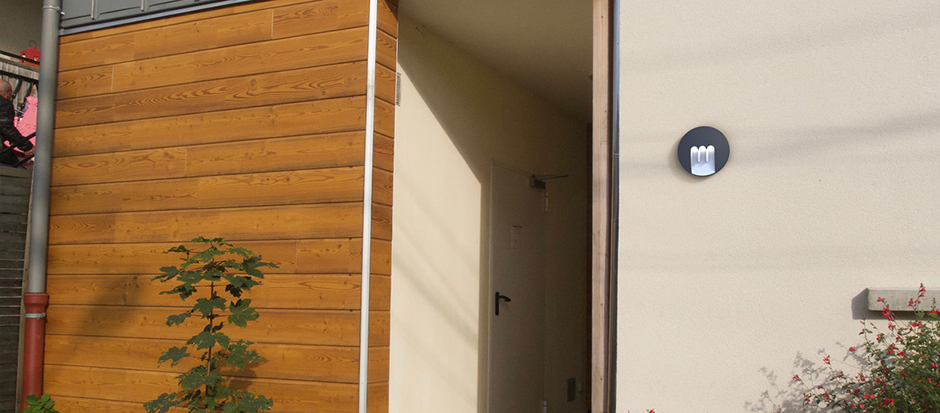 The Lutec Mask
outdoor LED wall light
delivers its own distinct personality through an innovative light distribution pattern. Light radiates from artfully concealed optical systems and flows through white finished caverns, creating a striking accent that will make a stylish statement on any building facade. The bold, creative design is perfectly delivered by taking advantage of UTEC's unrivaled engineering depth in mold tooling, die casting and surface treatment. No visible secondary optics, the stunning cascading light effects work their magic through smooth cast surfaces in durable, polyester coated white finish. Outside of its beam path, the aluminum housing is finished in an attractive graphite grey. UTEC's aluminum die casting is free of metallurgical defects and retains high dimensional stability with thin walls. Super TGIC thermoset polyester powder coating over the aluminum surfaces after a multi-stage conversion cleaning process ensures superior corrosion resistance and color retention. Integrated CREE XPE LEDs deliver high lumen output and color brilliance with significant energy savings and maintenance benefits. Impact-resistant, UV stabilized clear PC lensing provides glare-control and shields against environmental contaminants for reduced cleaning maintenance.
Product features
Innovative light distribution pattern delivers distinct personality.
Slim profile, stylish silhouette, complementing many styles of home exteriors.
Integrating super-bright and high efficacy Cree LED technology
Rugged die-cast aluminum housing free of metallurgical defects.
TGIC thermoset polyester powder coat finish elevates the appearance with beauty and detail.
High performance LED drivers provide outstanding efficiency and reliable performance.
DIY installation. No specialized hardware or equipment is required.
IP54 rated ingress protection from dust ingress and water spray.
5-year warranty.