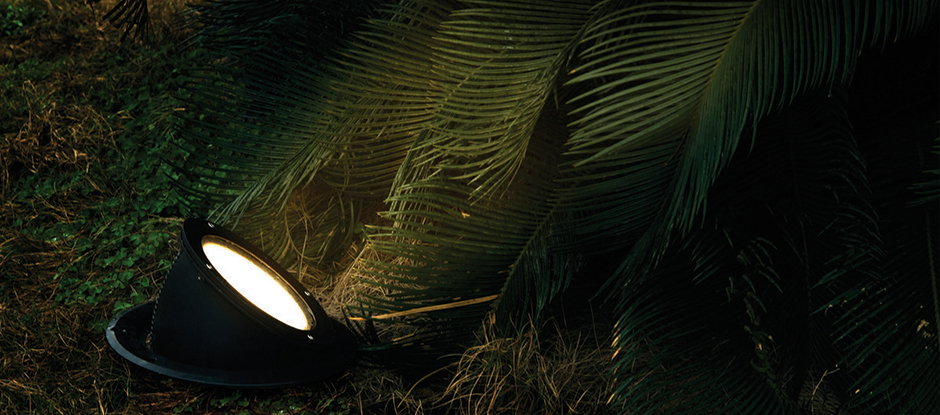 The Lutec Arctic LED well light allows you to create sharply angled landscape highlighting with an easily adjustable gimbal mechanism. The light head is adjustable up to 75°, giving you the ability to achieve optimal aiming and offering installation freedom with its flexible beam directionality. The ground-recessed spotlight integrates XLamp XB-D LEDs that are built on Cree's SC³ Technology™ Platform for high efficacy, long lifetime and smooth appearance. The crisp light beam shaped through a 22 °optical system delivers superior luminance and color uniformity for spotlighting architectural elements and landscape features.
Arctic is built to last a lifetime with its solid construction, superior thermal performance and corrosion resistance. The die cast housing is constructed from marine-grade aluminum alloy and finished with a thermoset polyester powdercoat after a multi-stage conversion cleaning process. The light engine is protected by an impact resistant tempered glass lens. This all-weather in-ground light comes with highly durable molded silicone rubber gaskets that are weather and ageing resistant.
Product features
Adjustable gimbal mechanism allows precise aiming.
Die-cast aluminum housing with a corrosion and UV resistant powder coat finish.
Optimized thermal management design for maximum performance, long life, and reliability.
Impact resistant tempered glass lens.
High‑efficacy Cree XLamp XB-D LEDs.
Correlated color temperature (CCT): 4,000K.
IP67 housing, dust-tight and sealed against continuous immersion up to a depth of 1 meter.
Anti-wicking cable gland providing optimal insulation against water ingress.
5-year warranty.