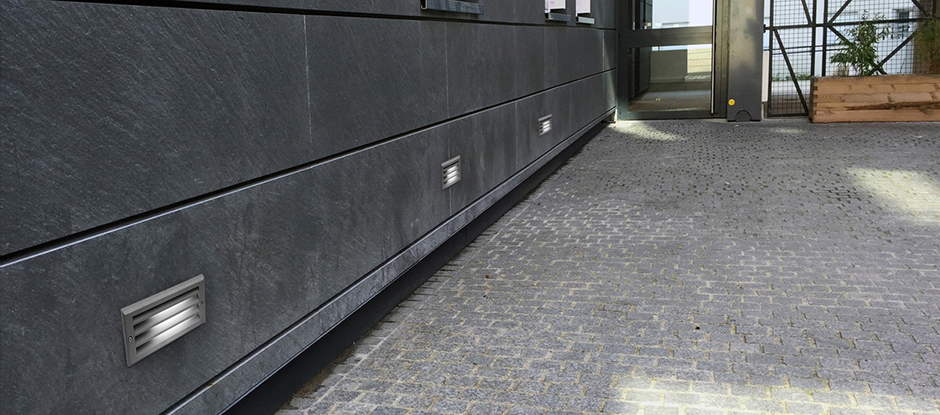 The Lutec Victoria LED brick light features a solid construction, optimum thermal design, and tight ingress protection against water and dust. The recessed wall light provides a reliable and cost efficient solution for illuminating outdoor stairways and lining a patio wall. Its classic silhouette with an updated look is delivered by a horizontally-oriented louver faceplate. Constructed of high pressure die cast aluminum and finished in corrosion resistant architectural grey, the rugged rough-in housing and faceplate boast superior dimensional stability and corrosion resistance. The architecturally durable housing provides structural support and a thermal dissipation path to a sealed light assembly which includes an LED light engine and an integral LED driver. The light engine uses Lextar 3030 high efficacy LEDs to ensure energy efficiency and quality of light. The angled louver works to direct the light downwards through a tempered glass lens for unobtrusive, glare-free illumination.
Product features
Recessed fixture for illuminating steps, hallways, and pathways.
Classic design in an updated look.
Louvered faceplate for asymmetric light distribution.
High performance LEDs deliver superior lumen maintenance and luminous efficacy.
High efficiency LED driver.
100 lumens of high quality white light (color temperature 4000K)
Pore-free, high strength die cast aluminum housing.
Polyester powder coating for superior corrosion resistance.
IP65 waterproof enclosure with protection against dust and water from environment.
Easy installation and low maintenance.
5-year warranty.