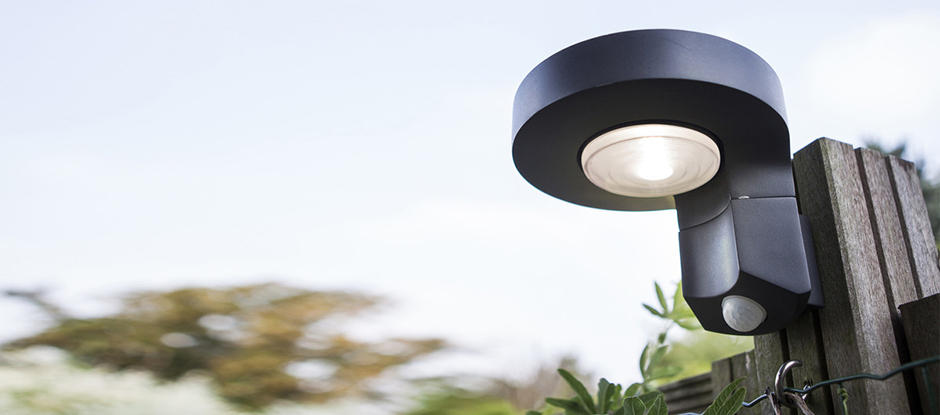 The Lutec Diso
solar powered LED wall light
is a highly functional and adaptable
lighting fixture
that integrates renewable energy technology with energy efficient LED lighting in a contemporary design. A polycrystalline solar panel is seamlessly embedded into the top of round ABS housing and produces 3.7 watts of power in direct sunlight. A built-in lithium-ion battery provides continuous power supply to the 2W LED module for up to 5 hours under a single charge. A PIR motion sensor maximizes operation efficiency of the light with its motion activated on/off control. The integrated fixture design eliminates the need for bigger capacity batteries to accommodate for loss of charging as a result of high idle currents in independent solar lighting systems with long external wiring. Rugged cast aluminum construction and multi-stage surface coating endow Diso with architectural strength and lasting durability. Clean minimalism styling with industrial aesthetics gives Diso a robust and timeless look.
Product features
Clean minimalism styling with industrial aesthetics.
Integrated solar lighting system.
Rugged construction. Superior weatherability.
Motion activation with 120 degree sensing angle and 8M detection distance.
High efficacy, long lumen maintenance LG 5630 LEDs.
3.7 watt polycrystalline solar panel.
2200mAh 3.7V lithium-ion battery with capacity for 5 hours of lighting.
Complete off-grid operation, no operation costs.
DIY installation, no external wiring.
IP44 ingress protection.