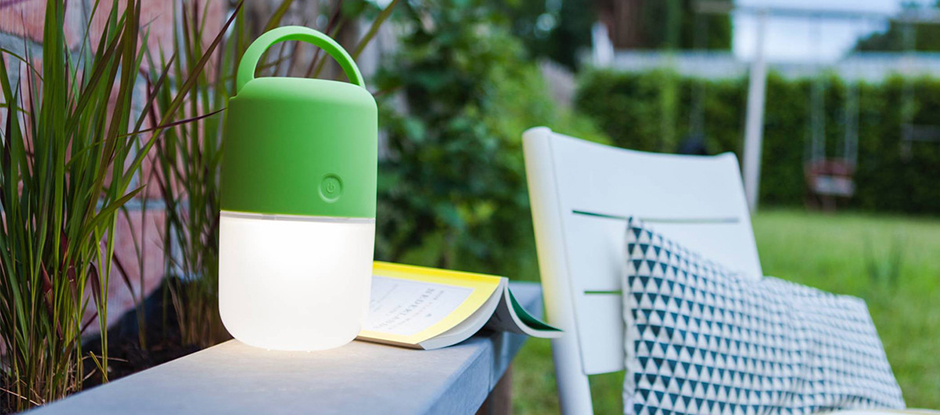 The Lutec Bump solar lantern is an indispensable survival tool that ensures you'll never be left in the dark for every camping, hiking, hunting and fishing excursion. With a sleek design and clean look evoking a refined quality and an unbeatable contemporary appeal, Bump takes the convenience of portable lighting and USB output charging in one product, making it a great addition to your outdoor adventure toolset or household emergency kit. The innovative design allows you to keep it on a table or hang it for bright overhead lighting.
Made of lightweight, durable ABS plastic and finished in an attractive green, orange or white, the lantern's weather-resistant cylindrical housing seamlessly incorporates an LED module, a rechargeable battery and control circuitry. The 1W LED module uses an array of high efficacy, long L70 life LG 5630 LEDs and delivers high quality light in conjunction with a white polycarbonate diffuser which softens the light throw. A sealed touch dimmer allows you to select among 3 levels of light intensity - 100, 40 and 10 lumens. At the 10 lumen brightness mode the 3.7V/2200mAh rechargeable lithium-ion battery provides up to 15 hours of run time on a full charge.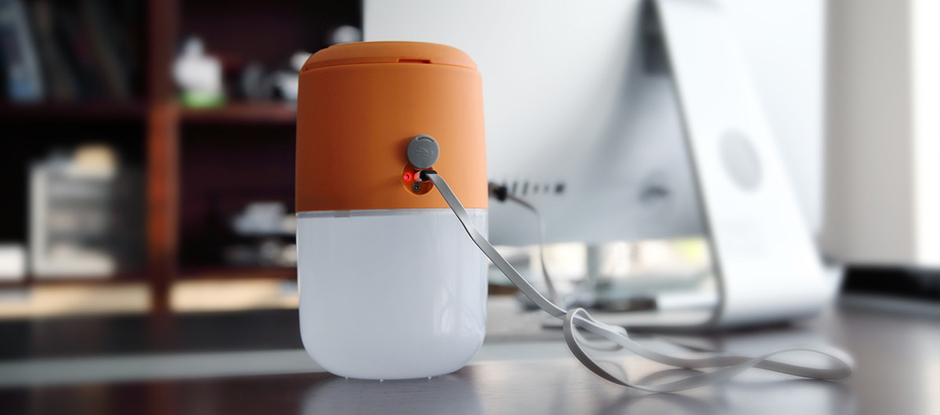 With its dual charging system this LED lantern relieves you from the hassle of connecting it to a powered wall outlet and allows you to choose between charging with a USB port or with a detachable solar panel. The 1.4W solar panel is made of chemically stable, high efficiency monocrystalline cells which are fully sealed against moisture and protected from environmental and mechanical damage. A control circuitry integrated within the lantern allows high rates of charging up to the gassing point while protecting the battery from under and overcharging to avoid premature battery failure and loss of load.
The Bump LED lantern is equipped with a Micro USB port which allows you to charge the lantern from the USB port on your computer before you head out. The rechargeable Li-ion battery may also serve as a power bank for charging your smartphones and other electronic devices by using the Micro USB port as an output.
Product features
Dual charging system - solar power and USB input.
USB output capabilities to charge mobile phones and tablets.
High efficacy, long L70 life LG 5630 LEDs.
Lightweight, durable ABS housing and PC lens.
3.7V/2200mAh rechargeable lithium-ion battery.
1.4W monocrystalline solar panel.
Adjustable brightness, 3-level dimming feature.
Impact-resistant construction.
Ergonomic handle with cable for hanging.
IP44 weather resistant housing.