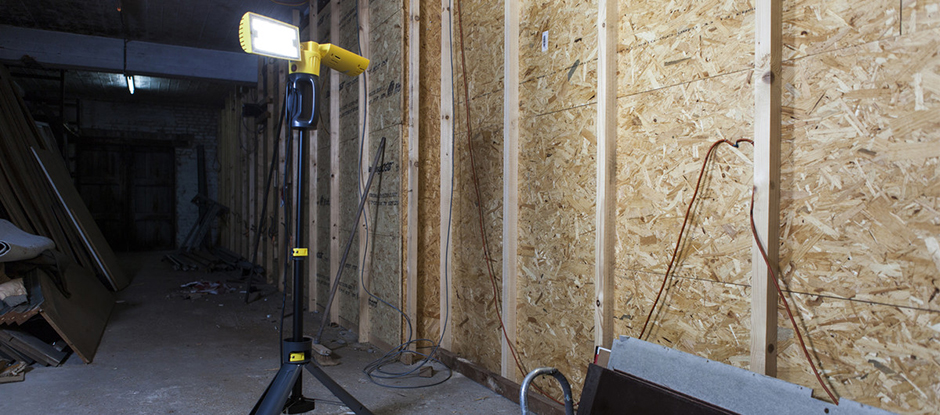 The Lutec Peri tripod floodlight offers a powerful site lighting solution that can be conveniently transported and deployed. The portable work light features a fully integrated design with an unprecedented degree of extendibility and retractability. A pair of adjustable light heads are integrally designed in a sleek cylinder shape when retracted, offering compactness of storage and convenience of portability. The 90° tilting and 360° pivoting heads allow for multi-directional illumination and maximal light coverage. These floodlights are mounted on a rugged telescopic tripod stand which provides the stability that is indispensable for stationary positioning. The innovative design allows the light to be adjusted from a collapsed height of 40 inches to a completely extended height of 61 inches. With a 5 inch cross-section size of retracted light heads, Peri boasts the industry's most compact and transportable floor stand work light with its performance and reliability remaining uncompromised.
The Lutec Peri portable floodlight takes advantage of high performance Osram 3030 LEDs and integral drivers that have outputs matched to the electrical characteristics of the LEDs. The high efficacy LEDs produce 3200 lumens of crisp light while drawing only 35 watts and delivering consistent lumen output and light quality over their 50,000 hours of L70 life. The floodlights are equipped with MCPET reflectors that have grid reflective cavities to maximize light output and optimize light distribution. Rugged ABS housing and scratch resistant polycarbonate lens offer outstanding protection. The cable powered light operates on 220-240VAC mains voltage. This model has an optional feature of integration with a PIR motion sensor to automatically activate the light upon motion detection within an adjustable 20 meter, 180° detection range.
Product features
Ergonomic design. High level retractability.
Exceptional flexibility in directional aiming.
Long-lasting, high efficacy Osram LEDs.
High reliability LED drivers.
3200 lumens of 5000K bright white light.
107° beam angle
One-piece MCPET reflector, polycarbonate lens.
Motion sensor detects motion 180 degree up to 20 meters.
Lightweight, durable construction.
Twist lock for quick and easy height adjustment.
Sealed on/off power switch.
IP54 ingress protection for indoor/outdoor applications.