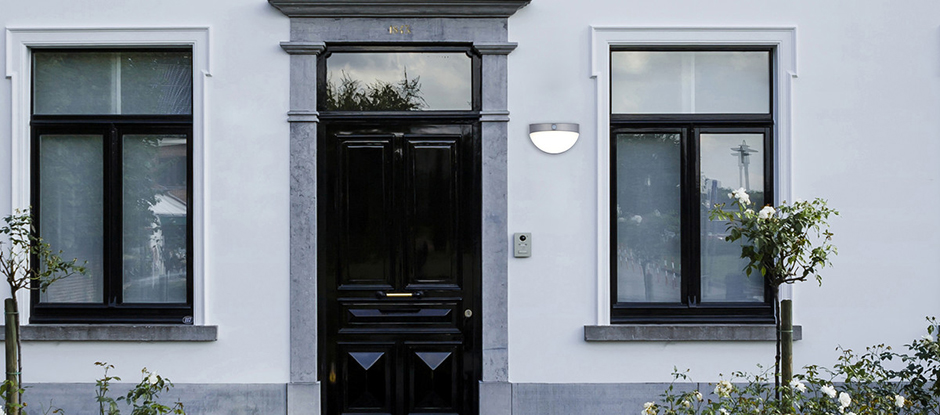 With gentle curves and a clean architectural form, the Lutec Bubble
LED outdoor wall light
has an elegant and modern appeal that makes your patio or garden look its best with this distinct addition. The quarter ball shaped luminaire is constructed of a glossy stainless steel housing fitted with a sleek opal PC diffuser that accents the design. The
modern wall light
was built with low cost of ownership and consistently reliable functionality in mind. Bubble takes advantage of the latest technologies in solid state lighting and solar energy to deliver a dependable lighting solution without the burden of rising electricity costs. The sophisticatedly integrated design incorporates a photovoltaic system and LED assembly. The photovoltaic system includes a solar panel made of polycrystalline silicon solar cells with maximum output and super high efficiency. A high durability compact lithium battery stores the energy generated by the solar panel and offers the 2.3W LED light a run time of up to 3 hours from a full charge. The LED assembly uses high efficacy Everlight 2835 LEDs which are distinguished by their high performance and reliability. An integral PIR motion sensor switches off the light during unoccupied hours to provide significant energy savings.
Product features
Sleek quarter ball shape with a clean architectural feel.
Weatherproof stainless steel housing and impact resistant PC diffuser.
High efficacy Everlight 2835 LEDs
1.5W polycrystalline solar panel.
2200mAh 3.7V lithium-ion battery.
3 hours of continuous lighting under a single charge.
Motion sensor: 12m detection distance, 120°detection range.
Complete off-grid operation, no operation costs.
DIY installation, no external wiring.
IP44 ingress protection.