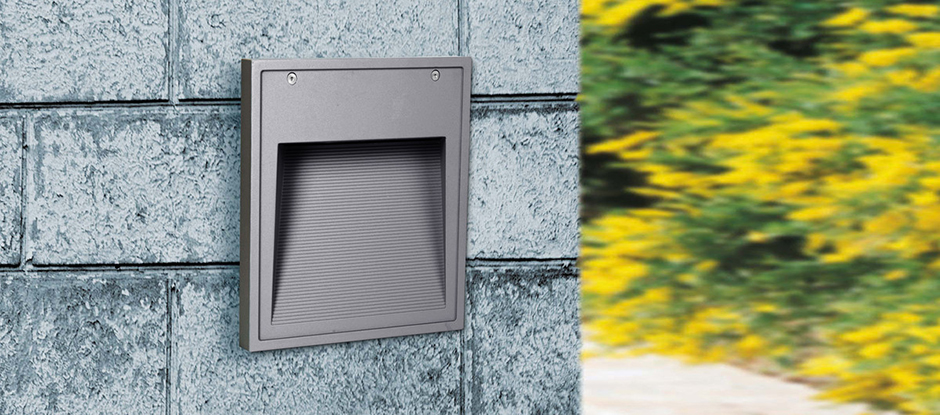 The Lutec Victoria is a sleek recessed wall light with a modern look that matches well to a variety of contemporary architectural motifs. The vertically mounted light features an open face with a ribbed slope in a silver grey finish that enhances its stylish feel. The Victoria's sophisticated photometrics ensure superb visual comfort while limiting glare and light pollution. The cut-off optical design eliminates all upward light and provides downward asymmetric light distribution with minimized light spill. The ribbed slope works to absorb and trap excess light, making the light throw less straining on the eyes. Its uniform grooves additionally lend a refined architectural appeal to the design. The recessed wall light features a rugged construction with a high level of workmanship. The high strength rough-in housing and faceplate are manufactured utilizing UTEC's complete casting solution which eliminates gas porosity defects and ensures high dimensional stability. A corrosion resistant layer of thermoset powder coat finish is electrostatically applied to the aluminum surface after a multi-stage cleaning and chemical chromating process for lasting beauty and durability. Long life, low maintenance LEDs paired with a high efficiency driver delivers optimized performance in combination with superior lumen maintenance and a high degree of reliability.
Product features
Vertically recessed fixture for illuminating steps, hallways, pathways, patios, porches.
Stylish contemporary design.
Asymmetric light distribution.
High performance LEDs with high luminous efficacy and long service life.
High efficiency, reliable LED drivers matching the long lifetime of the LEDs.
30 lumens of high quality white light (color temperature 4000K)
Pore-free, high strength die cast aluminum housing.
Heavy duty die cast aluminum housing and faceplate.
IP54 ingress protection.
Easy installation and low maintenance.
5-year warranty.